Good afternoon lovely people! Today's topic for Top 5 Wednesday is to talk or write about our favorite books that feature LGBTQ+ characters or that are written by LGBTQ+ authors. If you don't know what Top 5 Wednesday is you can go visit this link T5W where everything is explained, but basically, it is a weekly book meme created by Lainey from gingerreadslainey and Samantha from thoughtsontomes on booktube. Each week, on Wednesdays, we get a different topic related to books for us to talk about. So let's just get into the prompt for today's topic!
B
o
o
k
s
F
e
a
t
u
r
i
n
g
L
G
B
T
Q
+
c
h
a
r
a
c
t
e
r
s
/
W
r
i
t
t
e
n
b
y
L
G
B
T
Q
+
a
u
t
h
o
r
s
I'll Give You The Sun by Jandy Nelson
To be honest, I think this book is my favorite young adult contemporary book I've read so far. I don't typically go for this genre because I think that I've grown out of it for a long time now, but this book IS EVERYTHING I EVER NEEDED FROM A YA CONTEMPORARY. The story follows Jude and her twin brother Noah after a terrible loss leaves them estranged from each other. I don't think I can tell you anything else without spoiling the entire plot of this book, but please, give this book a chance because it will leave you an emotional mess. It deals with suffering, struggling to come to terms with things that happen in life and with who you are, and being able to let things go and accept yourself. But one of the things that I loved the most was the writing of Jandy Nelson which is extremely poetic and beautifully done. In general terms, this whole book is aesthetically beautiful.
Six of Crows Duology by Leigh Bardugo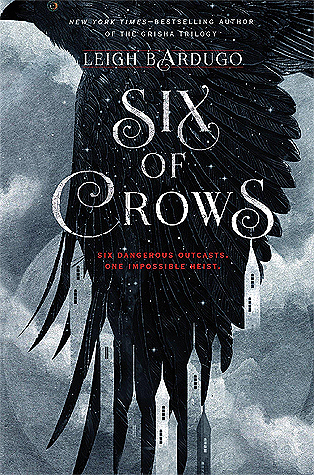 Bless Leigh Bardugo for having created this masterpiece of a duology that is Six of Crows and Crooked Kingdom. If you don't know these books I'm afraid you have been living under a rock, and PLEASE, go read them! Bardugo based this duology in the same Russian-inspired Grisha universe as in her Grisha Trilogy, but these books are so much more grim and mature that I don't know if I would categorize them as YA. The story follows the Dregs, a group of six delinquents and nobodies, who embark on a nearly impossible heist in order to earn their prize: money. Soon we come to find out that not all of them are after the money, and we get to see the backgrounds of each one of these diverse characters that will soon become your problematic faves. The Ravkan atmosphere, the snarky dialogues and most importantly the characters will have you swooning over this duology.
Aristotle and Dante Discover the Secrets Of the Universe by Benjamin Alire Sáenz
This book broke my heart into a million tiny pieces and then proceeded to put them back together so tenderly I couldn't pass the chance to recommend it to everyone. Set in the late 80's in the US, here we follow Aristotle and Dante and their friendship as it develops into more than a friendship, and all the obstacles these two mexican-american teens have to go through in their journey of self-discovery and acceptance. This book tackles discrimination, coming to understanding one's identity, and love in all its forms. This is another YA contemporary that made me fall in love with the genre all over again, even if only for a little while. I could not recommend this enough to anyone who feels doubtful or lost as regards their own sexuality. This book comes as a breath of fresh air when so many things are going terribly wrong in this world.
Lover At Last by J.R. Ward (Black Dagger Brotherhood #11)
This one is hard to talk about since it is the 11th book in a series. Yes, you read right, the 11th book in a never-ending Paranormal Romance series. The Black Dagger Brotherhood books follow the story of a group of warrior vampires who live in the city of Caldwell in the US, and their continuous war with their enemies, creatures called Lessers who seek to destroy them. Each book in the series follows the story of one of these brothers and their relationships to their respective love interests, and this one follows Quinn and Blay's story. I've been obsessed with these books since I was in high school, and I don't think I've ever come upon another vampire series that was as captivating and action-packed as this one. So if you are into the paranormal with a touch of violence and the occasional bloodshed and steamy relationships then this one's definitely for you.
The Long Way to A Small, Angry Planet by Becky Chambers (Wayfarers #1)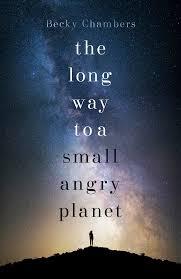 This sci-fi book became one of my favorite books of 2016. The story follows a spaceship crew whose jobs is to punch wormholes in the universe so that everyone can use them as portals to travel from planet to planet. Even though it is a sci-fi book, it deals less with spacey stuff and more with the characters' lives and cultural differences, since the crew is made up of a diverse pick of different races, alien species and humans. This book tackles a lot of important issues like war, politics, discrimination, gender and sexuality. It is about different species coming together, learning about their differences and understanding and accepting one another as equals. It is not only a book that features LGBTQ+ characters, but also one that explores every single aspect of how different we all can be and still be able to coexist peacefully. You should give this book a chance even if you are not into sci-fi, because it is so much more than just that, trust me.
So these are my picks for favorite books at the moment that feature LGBTQ+ characters. There are so much more that I would have wanted to include as well, but this list would be never-ending. But if you'd like to check them out, you can find them on my Goodreads page on my LGBTQ shelf. Now, what are your favorites? Are you interested in diverse books that feature LGBTQ content? Let me know down below in the comments! Until next time 🙂