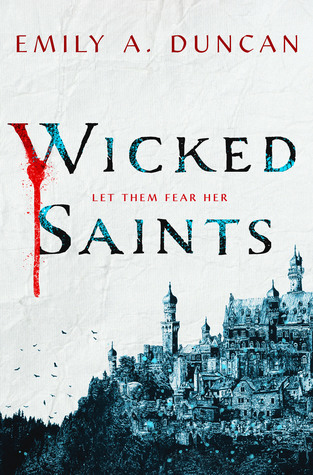 A girl who can speak to gods must save her people without destroying herself.
A prince in danger must decide who to trust.
A boy with a monstrous secret waits in the wings. 
Together, they must assassinate the king and stop the war.
In a centuries-long war where beauty and brutality meet, their three paths entwine in a shadowy world of spilled blood and mysterious saints, where a forbidden romance threatens to tip the scales between dark and light.
Pub. Date: April 2nd.
★☆☆☆☆
---
*ARC provided by the publisher via Netgalley in exchange for an honest review.
I think it's time I learned my lesson that not every single hyped up ya fantasy is gonna be worth the hype. Lately I've tried to be extremely picky with the ya fantasy books that I read. Why? because they all sound the same. They all have the same cliché characters, the same tropes used, they all follow the same structure (the chosen one has to go on a journey/quest usually with a group of people amongst whom there's always one that's the enemy, they travel in search of something, someone wants the protagonist's powers because she is ALWAYS the only special person that possesses said powers), and so on and so forth. It's getting tiresome to read the same stories with zero creativity put into them. this was no exception, even though the author did take inspiration from a culture that is not much prevalent in the genre and which I'd love to see more of. unfortunately, the slavic inspiration was not nearly enough to make me like a book that lacked in every single department of its development.
In Wicked Saints we follow the points of view of two characters: nadya and serefin, both characters on opposing sides of an endless religious war. Serefin is the high prince of a country that has rejected the 'gods' and has in turn adopted a more progressive form of magic, if you dare, which is basically blood magic. The whole country is deemed as heretic because of the fact that they use their own blood to cast magic spells instead of letting the 'divine gods' do the work using the person as a vessel, which is the magic that is present where nadya comes from. Nadya is the last known cleric who happens to be able to speak to every single god of the pantheon, something that has never been seen before, because of course, it wouldn't be ya fantasy if the protagonist wasn't a special snowflake, am I right? Well, as interesting as this setting could have been, the story just fell apart as soon as it started. the magic system has no logic whatsoever as to how it works or what are its limitations, it's just something that exists and you have to go with the flow of thinking you understand what is going on or how these characters do the things they do with it. If you can suspend your disbelief for the entirety of the book, then I'm pretty sure you're going to love this, unfortunately, this wasn't my case. Taken the aspect of the magic system being extremely vague and convenient aside, I need to talk about how EVERYTHING that happened in this book was just one huge convenience. The characters never once encountered an obstacle that wasn't easily faced. They need to forge papers to enter the mouth of the enemy kingdom? well good luck one of the members of this crew is a perfect forger and will be able to find the materials necessary to forge said documents without any problems even though they have been on the run and living in the middle of a freaking forest! The country is riddled with enemy military? never fear, in this book you will not ONCE encounter one single soldier and you will be able to enter the border without a single glance at you. We have to kill the king to stop this war? easy peasy, there's a royal tradition that is allowing RANDOM people to enter the palace AND LIVE IN THE ROYAL PALACE (???) to try and gain the heir's hand in marriage, we should totally sign up the ENEMY girl into it without any problems! done, done and done. You see where I'm going? everything was so simple, everything just always fell into place, and I was tired of reading something that I knew was going to work out because apparently these characters never faced a single hindrance in their journey.
I love myself an enemies to lovers story. I'm a sucker for those stories…when they are written well. wicked saints was not the case. This book has been flaunted everywhere as the next best thing when it comes to that trope, but I have to digress with every single one who said such a thing. The author was so adamant in reminding the reader of this supposed 'enmity' between the characters when there was clearly nothing there. When you have to repeat over and over something just so that people will believe in it, I don't think you're doing a great job at CREATING said enmity. It would have been better if she had spent the book developing the characters and SHOWING us why we are to believe these characters are enemies than her drilling into our heads that they were enemies just because. The result of that was that everything felt forced; saying you are enemies does not make you enemies. You have to give me something concrete for me to believe in your supposed enmity. Malachiasz, the character we are to believe is our female protagonist sworn enemy, is a deserter, therefore, he is on the same side of the war as hers throughout the majority of the book; he wants an end to the war so why should I believe you when you tell me they are sworn enemies? it doesn't make sense…….
When it comes to the side characters in Wicked Saints, they were extremely vague to the point where I could not even begin to differentiate between them; I could not tell you which one was which, they were all the same with lacking personalities because the author did not even made the attempt at proper characterization or give her characters a little bit of depth. And I can also say the same thing for the main three characters: they are the poster boy and girl of every other YA-fantasy character. The girl who is the 'chosen one' who is going to stop an endless war because 'sHe Is So SpEcIaL', she's the special snowflake who has unique powers never seen before, and everybody wants her powers for themselves. The bad boy, the enemy who is the brooding and scowling guy who falls for her, as it always happens. They were every other character you always find in a YA book, there was nothing to make them stand out from the overly repetitive characters of the genre, which made me dissapointed but not surprised. After all, the genre has been severely lacking innovation for years now. The only silver lining in this boredom of a book -and the reason of this one star rating, because if I could, I'd have given it 0 stars- was the point of view of the high prince, Serefin, but unfortunately his role in the overall arc of the story wasn't even that important. He was relegated to the background of a romance that lacked chemistry, depth and organical development….and for what? I guess saying your book focuses on an enemies to lovers ship nowadays sells a lot more.

If I hadn't gotten an arc, I probably would have dnf'd this book at 20% in, but I needed to read the whole thing to be able to rant about how low the bar is when it comes to publishing. I've read wattpad stories that had more DEPTH AND DEVELOPMENT OF THE ACTUAL STORY than this book! this is nothing against the author, it's just a personal opinion on what I felt was an overall lacking book: lacking in plot, lacking in characterization and lacking in world building -because let's be real, naming gods and things in slavic does not equal world building-. I wish this would have been what was sold to me when I requested an arc, but it ended up being a dissapointment.