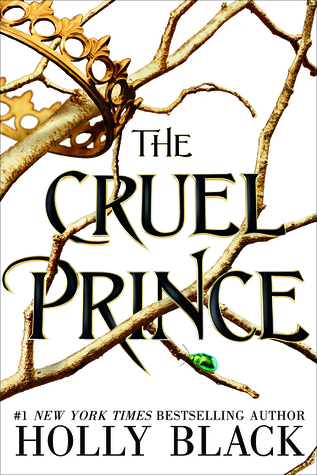 Jude was seven years old when her parents were murdered and she and her two sisters were stolen away to live in the treacherous High Court of Faerie. Ten years later, Jude wants nothing more than to belong there, despite her mortality. But many of the fey despise humans. Especially Prince Cardan, the youngest and wickedest son of the High King.
To win a place at the Court, she must defy him–and face the consequences.
In doing so, she becomes embroiled in palace intrigues and deceptions, discovering her own capacity for bloodshed. But as civil war threatens to drown the Courts of Faerie in violence, Jude will need to risk her life in a dangerous alliance to save her sisters, and Faerie itself.
Rating: 4.5/5 stars
---
"I am going to keep on defying you. I am going to shame you with my defiance. You remind me that I am a mere mortal and you are a prince of Faerie. Well, let me remind you that means you have much to lose and I have nothing. You may win in the end, you may ensorcell me and hurt me and humiliate me, but I will make sure you lose everything I can take from you on the way down. I promise you this- I throw his own words back at him- this is the least of what I can do."
Well, I just finished this and I have a lot of feelings I need to make sense of. First of all, I wanna say that this was my first Holly Black book I've ever read, and I really hope it won't be my last. This book came out a few days ago, and the hype surrounding it has been insane, and I have to say that it is worth EVERY BIT OF THAT HYPE.
In The Cruel Prince we follow the story of Jude and her sisters whose parents were murdered by Madoc, a Fae who happens to be the father of one of the sisters since long ago he was married to a mortal woman. Because of their parents' deaths, Jude and her sisters are taken by Madoc to live with him in Faerie, the world where Faeries live. Through the perspective of Jude, we see how hard it is for her to feel like she belongs in this new and foreign world to them. She now has to navigate the intricate world of the Courts and deal with all sort of Faes who see her as an inferior being for being mortal.
I love how much it was focused on the political machinations and intrigue of the storyline, instead of just on an angsty romance, which is what a majority of YA fantasy books I've read tend to do. There was a perfect balance between court politics, development of relationships and drama. There were so many twists and turns as well, and I have to say most of them were unexpected, and that's also related to the way the characters are portrayed. In The Cruel Prince no character is one-dimensional, every single one of them is complex, and their intentions are mostly never exposed until the very last, which adds to the unpredictability of the story. The Fae are not good nor bad beings, yes, they behave in an awful manner, they do horrible things most of the times, but they are morally gray beings, just like all the characters in this book, including Jude. I think that was one of Black's strongest suit, how well she was able to explore each character's intentions and behaviors without giving everything away at once, and without excusing said behaviors at all.
Most of the times when I read YA fantasy, the female characters tend to annoy me with their blandness, so it was refreshing to see the character depth of the female protagonist in this one and how well-developed she was throughout the story. Even though she has to go through a lot of shit in the book, she never surrenders to anger or unwarranted violence, instead she always strives to use her head to try to see the long-run, instead of the instant and immediate gratification of revenge and getting what she wants. She develops this cool-headedness that of course doesn't happen overnight; she has been training and learning ever since she was brought to Faerie. It was also interesting to see how she always worked towards finding her own place in the world. We learn from the start that she was brought as a kid into this unknown world of Fae, and we learn how much of a stranger she feels there, she's neither/nor: she's neither a human nor a fae, she doesn't feel like she has a place in the world, and she strives to have it, she works her ass off to get to where she wants to be, to make someone out of her whom she can be proud of and content with. I think that's mostly the appeal to her character, she never once whines or whinges about her horrible life or destiny, because she's too busy making one for herself.
My other favorite character was one who started off as a little shit but ended up grabbing my unwavering attention by the end of the novel. And that is Prince Cardan. I don't know about you, but I'm a sucker for the tragic backstories of bratty and arrogant characters, and that's the perfect definition for Cardan. Yes, he's a dick and a bully, especially towards Jude, but he grows on you, with his sassy remarks and his story, and with his character development. The dynamic between him and Jude was one of my most enjoyable things in this book, even though 99% of the times, they were both trying to kill each other. I honestly can't wait for book 2 to see where his story arc takes off to, and how his interactions with jude will be like.
I also thought this book was going to be more heavily focused on the romance than it actually was, and I found myself being okay with it. Even though I wish a certain pairing would have been further developed, I think that the pacing and the way this particular relationship evolved was done perfectly well and in a realistic manner. I have to admit that one of my favorite tropes ever is the hate to love relationship trope, so I honestly can't wait to see how these two characters' dynamic gets further developed in the second book mainly because of the way this book ended.
I think the only issue that I had with this book was how I felt like the writing didn't fit the dark and twisted tone of the story. Most of the times I found the writing to be somewhat juvenile and light-hearted, which felt kind of inadequate for the type of story that I was reading, but like I've said, this was my first experience reading a book by Black so her writing style was all new to me. While I do think there were similarities to ACOTAR by Sarah J Maas (which is the only book in that series I've read) I found myself enjoying this one way more.
Honestly, I went into this book knowing all the hype it's been getting from the people who had already read ARCs of this, and knowing they loved it, and I have to say I was not disappointed. I was hooked from the first page, and even though the writing wasn't a favorite of mine, that didn't prevent me from fully enjoying this story. It left me eager to know what's going to happen to Jude and Cardan in the next book and I can't wait for it.