Raised to be a warrior, seventeen-year-old Eelyn fights alongside her Aska clansmen in an ancient rivalry against the Riki clan. Her life is brutal but simple: fight and survive. Until the day she sees the impossible on the battlefield—her brother, fighting with the enemy—the brother she watched die five years ago.

Faced with her brother's betrayal, she must survive the winter in the mountains with the Riki, in a village where every neighbor is an enemy, every battle scar possibly one she delivered. But when the Riki village is raided by a ruthless clan thought to be a legend, Eelyn is even more desperate to get back to her beloved family.

She is given no choice but to trust Fiske, her brother's friend, who sees her as a threat. They must do the impossible: unite the clans to fight together, or risk being slaughtered one by one. Driven by a love for her clan and her growing love for Fiske, Eelyn must confront her own definition of loyalty and family while daring to put her faith in the people she's spent her life hating.
★★★★★
---
When I picked this book up, I wasn't expecting it to reach my expectations the way it did. I had read the synopsis and seen the cover since the moment this book was announced and fell in love with the idea of it. Being a lover of the Vikings show, and anything Vikings-related, I understood that a YA story based on norse clans could leave me extremely disappointed. That wasn't the case.
Sky in the deep managed to surprise me in so many different ways, from the stunning and detailed writing style of the author in her debut novel to a simple yet captivating storyline of enemy clans. Like I said, no matter how many times I feel like I've read this same story -enemy sides fighting against each other since the dawn of time when something happens that drives them to work together-, I couldn't get enough of it in Sky in the Deep. And I think that the reason for that has to do with the characters that Adrienne created. She made me care for them, be immersed in their lives and their struggles to completely fall for this story that I seem to have read countless times in YA literature.
All the characters that we are introduced to in this book were nuanced, none of them were one-dimensional. Eelyn, our main character, is a fierce and badass warrior who has been fighting at war for her clan since a very young age. Fiske appears to be the other side of the coin to our female protagonist, and it was so satisfying seeing two characters like that come together, working together, because of life circumstances. Their character development was never rushed and it flowed with a natural pace that reminded me of why I once enjoyed YA literature so much, and that sometimes it can get it right, sometimes, changes in a character make sense and are not forced upon them just for the sake of a romance or for random reasons.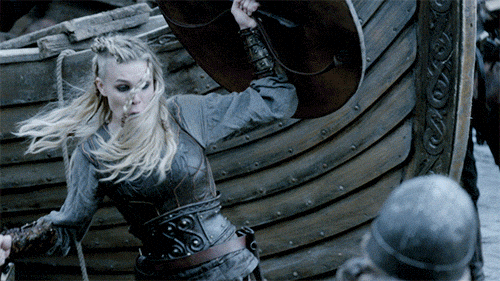 I'm honestly shocked that this was just Adrienne's debut novel because it feels like she's been writing books her whole life. Sky in the Deep gave me everything I hoped I would get from a norse tale and it left me craving for more. I really hope she decides to write more about this world because I feel like she barely scratched the surface of its myths and characters. If you happen to love this part of history or if you just happen to enjoy watching the Vikings tv show, then do yourselves a favor and pick Sky in the Deep up, you'll not be disappointed.